Blog from the RV Polarstern: MOSAiC trace gas fluxes update 4.3
By Byron Blomquist
Another week of alternately foggy and sunny weather for us here on the floe, and the melt continues. Each 'night' when the sun dips to the lowest angle above the horizon, snow and melt pond surfaces freeze up a bit, remelting in the 'day' when the sun angle is higher (i.e. during the hours of our normal work day). This freeze/thaw cycle is more pronounced on cloudless days like today. This is gradually turning the snow into an extreme version of the 'corn' snow familiar from spring skiing conditions. But here the snow crystals grow quite large, almost pebbles really. Walking in this on a warm day is a bit like slogging through pea gravel, often punching through to a saturated wet layer below. In drifted areas near ice ridges it's common to sink to your knees or higher in the slush. Foot travel is exhausting and wet. It's difficult to avoid getting overheated in the FXR survival suits. On the positive side, many of the larger snow melt ponds have recently drained and conditions on some of our paths are actually improving.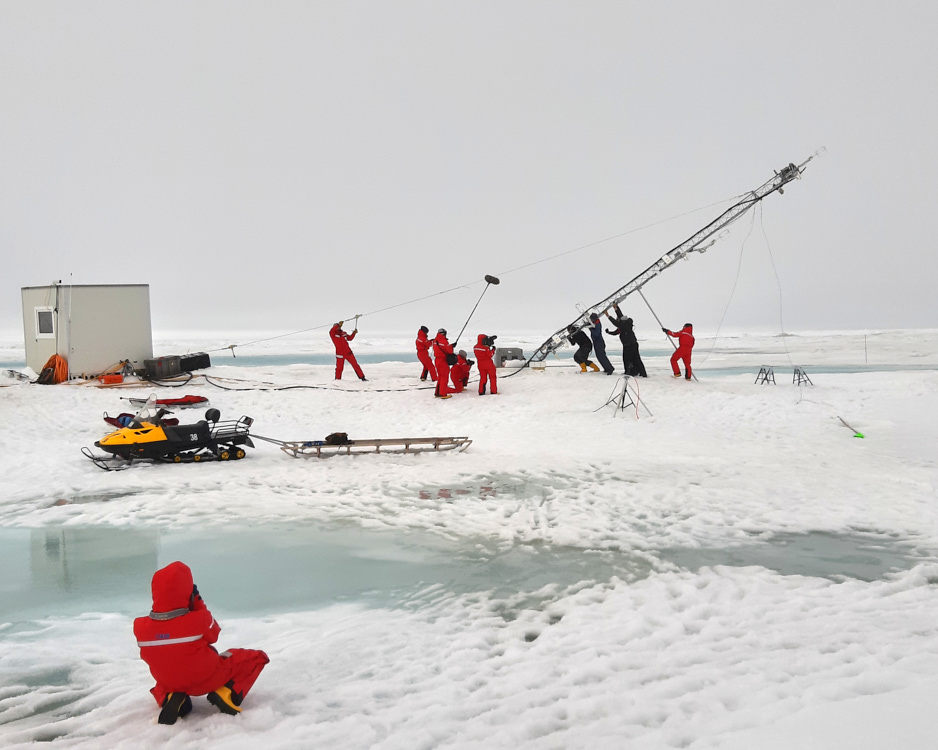 At this point we have most of the flux and trace gas systems from Legs 2 and 3 running again. We restarted CO2/CH4 flux measurements at the Met City 10m tower on Monday. Today, Steve and I replaced cooling fans on the GCMS and that now looks good to go. Steve has fabricated a floating funnel for the CO2/CH4 flux chamber and we will test that out on a melt pond near Met City today. Here is a photo of the Met City tower going up.
Wind speed and direction is not favorable for measurements from the ship's bow today and we expect this state to continue for at least a couple days. Overall, weather conditions have been very mild since our arrival at the floe with wind speeds below 5 m/s. We're getting snippets of news from the outside world and hope all is well with you at home.