Participate in MOSAiC from Anywhere
An international group of educators, photographers, cinematographers, and scientists are teaming together to bring the MOSAiC expedition to everyone and anyone fascinated by the Arctic, including K-16 students across the globe. Bookmark this site and check in regularly for curricula, videos, and other updates from the ship.
What's New
Attention educators: Since NSTA's National Conference in Boston was cancelled due to COVID-19 concerns, NESTA (National Earth Science Teachers Association) is offering educators the chance to participate in a FREE virtual conference with NESTA-sponsored presenters (including the MOSAiC team!) on Saturday, April 4, 2020 from 3 PM to 7:30 PM Eastern Time. Don't miss out on this chance to connect with other educators! Register by April 1, 2020 to hold your spot.
Are you a teacher or parent looking for online educational resources for your students or kids to interact with? We'll be keeping an updated list of polar-related online/remote/at-home learning resources on the page linked to below, and you can also connect with the MOSAiC expedition each week with MOSAiC Monday (sign up here to have it delivered straight to your inbox).
Just released! MOSAiC Distributed Network 360-degree Virtual Reality Experience
The Polarstern has always been the central base of operations for MOSAiC. But at the beginning of the expedition, researchers set up a 'distributed network' of scientific instruments and measurement stations at remote locations on the ice around the ship, in some cases up to 50 km (31 miles) away! Now you can experience first-hand what it is like to be a scientist on the ice or on the ship with this free 360-degree virtual Google Expedition. This expedition also works as a virtual reality experience using Google Cardboard and a smartphone. 
Go to the MOSAiC Distributed Network 360-degree virtual experience
Follow the Polarstern in the Fluid Earth Viewer
Fluid Earth Viewer (FEVer) is an interactive web application that allows you to visualize current and past conditions of Earth's atmosphere and oceans. Now you can find the real-time location of the Polarstern in the viewer! See what conditions are like for the current expedition participants - air temperature, ocean currents, wind, sea surface temperature, and more. Or check out what's going on in your neighborhood!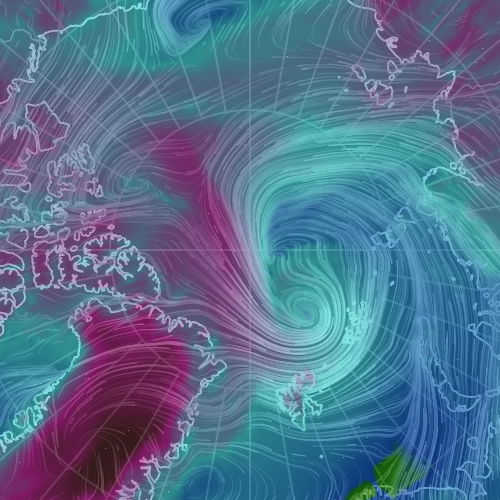 Museum of MOSAiC Art (MoMOA)
Do you like to draw, paint, sculpt, take photos, build models, knit, sew, write poetry, or engage in any other kind of creative endeavor? We want you to send us photos or scans of your MOSAiC-themed artwork! Submitted artwork will be showcased in the new Museum of MOSAiC Art. Submit your masterpieces here!
 
MOSAiC + Reach the World
The MOSAiC education team has partnered with Reach the World to bring you more MOSAiC in your week! Every couple of weeks different MOSAiC team members will be featured on the Reach the World MOSAiC expedition page, and classrooms will have the opportunity to participate in video calls with MOSAiC participants. Sign up for Reach the World's Explorer Program to learn more and get involved!
 
Get Connected

Sign up for the MOSAiC Education monthly newsletter.

Sign up for MOSAiC Monday for weekly classroom resources. 

  Ask a question by submitting a video selfie!

  Meet the MOSAiC Education Team

 Planetarium show information