Featured this week: MOSAiC School 2019

What is the MOSAiC School?
In 2019, 20 early career scientists from all over the world joined the first six weeks of the MOSAiC expedition aboard the Russian support icebreaker Akademik Fedorov.  These early career scientists have a wide variety of interests, from glaciology to marine science, biology to environmental chemistry. The MOSAiC School, organized by the Association of Polar Early Career Scientists (APECS) and the Alfred Wegener Institute, Helmholtz Centre for Polar and Marine Research (AWI), provided an opportunity for these scientists to learn more about the Arctic system and train in collecting data directly in the field, as well as to communicate their science to the public. Several educators and scientist lecturers also participated in the MOSAiC School. In this edition of MOSAiC Monday, we'll highlight some of the MOSAiC School 2019 participants' ('ambassadors') experiences on the ship and what's next for them. Photo: MOSAiC School 2019 participants; Photo courtesy of APECS
Who are the MOSAiC School 2019 participants, educators, and lecturers?
Follow the MOSAiC Ambassadors' Journal on Twitter @MOSAiC_embassy
---
---

Meet a MOSAiC School Participant
Sean Horvath shares one of his favorite moments from his experience aboard the Fedorov:
Like many Arctic scientists, my research is done on a computer far away from what I study (Arctic sea ice), so the chance to join the MOSAiC expedition as a MOSAiC School participant was an incredible opportunity.  The expedition was full of highlights such as seeing polar bears in person, seeing the northern lights, walking out on sea ice, learning about a wide variety of Arctic science topics, and meeting incredible people from around the world.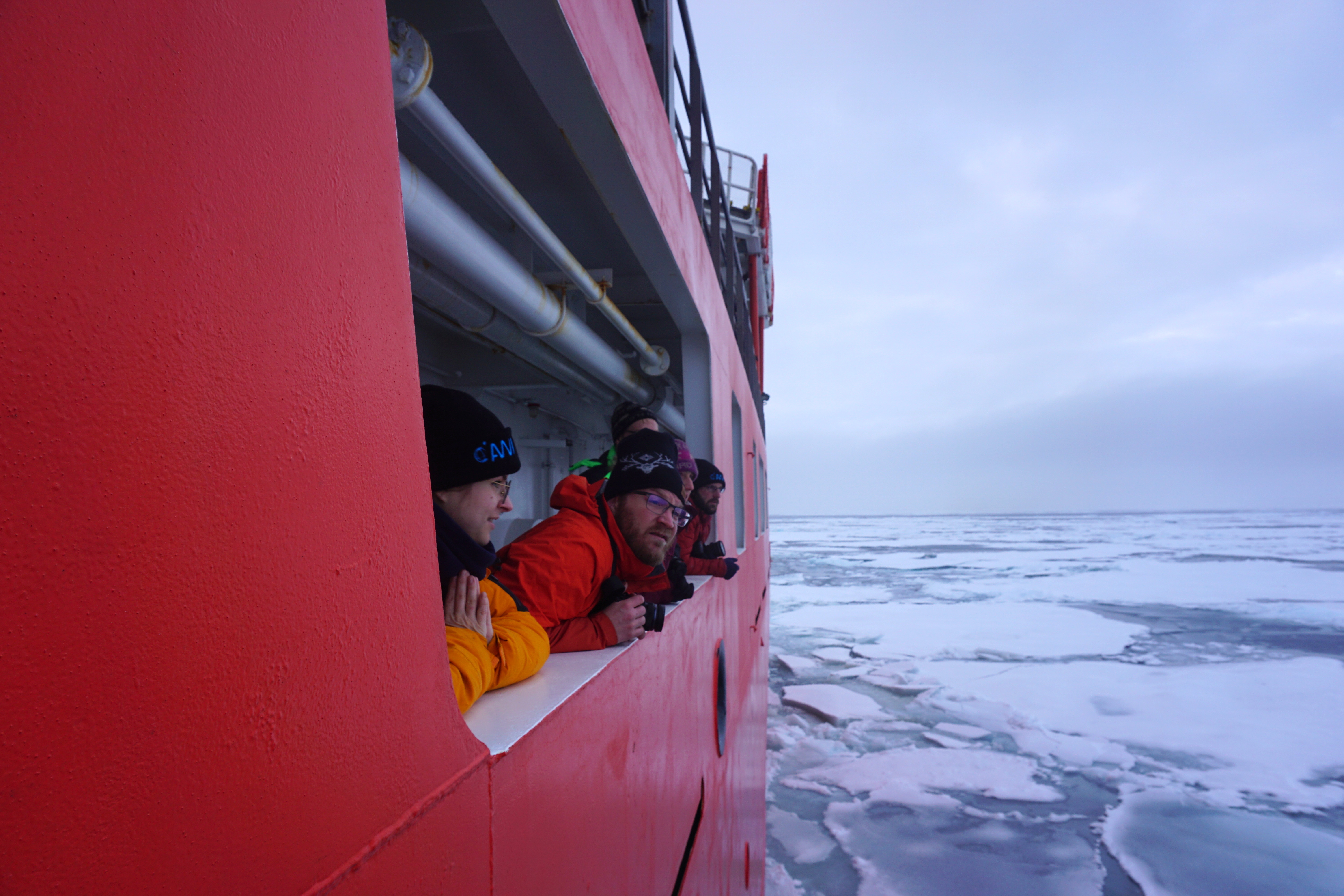 One of my favorite moments was the evening we first saw sea ice.  After sailing for 5 days and at around 81°N, someone entered the mess hall during a social event and announced that sea ice had been spotted.  Everyone dropped what they were doing and rushed outside.  We all lined the railings looking overboard and saw little plates of ice (called "pancake ice") floating by the ship.  Pure joy overcame us all as we began jumping and shouting in excitement.  The fact that all the participants were as excited to see sea ice for the first time as I was made the moment that much more special and was indicative of the comradery we were developing.  The expedition was full of moments like this, and I'm incredibly thankful I was able to take part in the MOSAiC School. Photo: MOSAiC participants gather on deck to look at the sea ice; Photo credit; Anika Happe
Sean Horvath is a PhD student at the University of Colorado Boulder studying hydrology and hydrometeorology.
---
What Christmas is really like at the North Pole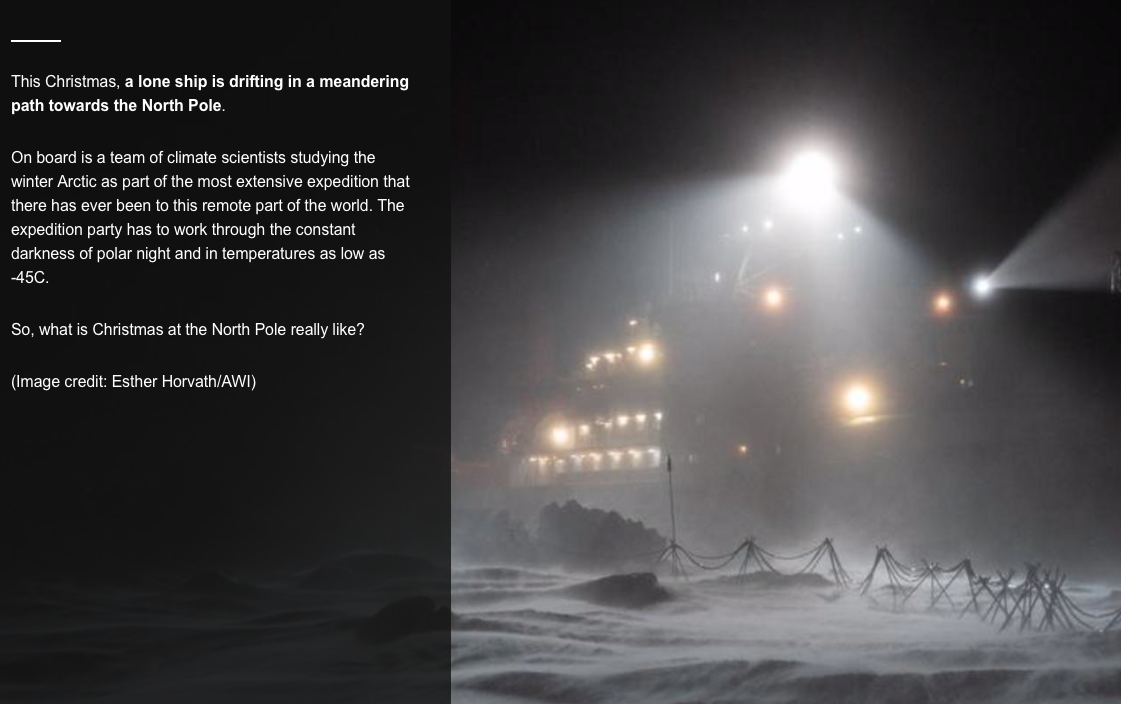 MOSAiC School participant Thea Schneider, a photographer and physics graduate student at the German University of Potsdam, created this stunning slide show for BBC Future that shows what life is like on an icebreaker in the Arctic and highlights the many challenges MOSAiC participants have faced.
Read MOSAiC School participant Robbie Mallett's blog post about the MOSAiC expedition and why they installed a wind turbine on the ice
 Quick Bite: To Walk in Another's Shoes (Snow Boots?)
Ask your students to choose one of the photos from Thea's slide show that includes a MOSAiC participant. Challenge students to write a letter from the perspective of the MOSAiC participant to their friends and family back home describing what they are seeing, feeling, and experiencing in the photo.  If they were to be on the expedition for several more months, how might things change (e.g., the weather, daylight, ice conditions, etc.)?
---
 Up Next for MOSAiC School
MOSAiC School participant Carrie Harris, PhD student in Environmental Science and Ecology at Montana State University, is working on featuring the women of MOSAiC School 2019 in the next issue of Women Doing Science. Follow their Instagram page to check it out!
Women Doing Science on Instagram
---
#askmosaic: Getting Along in Close Quarters 
This week's question was submitted by Jullianna from Seneca Falls Middle School: Because of the close quarters, are there ever any arguments or fights among staff?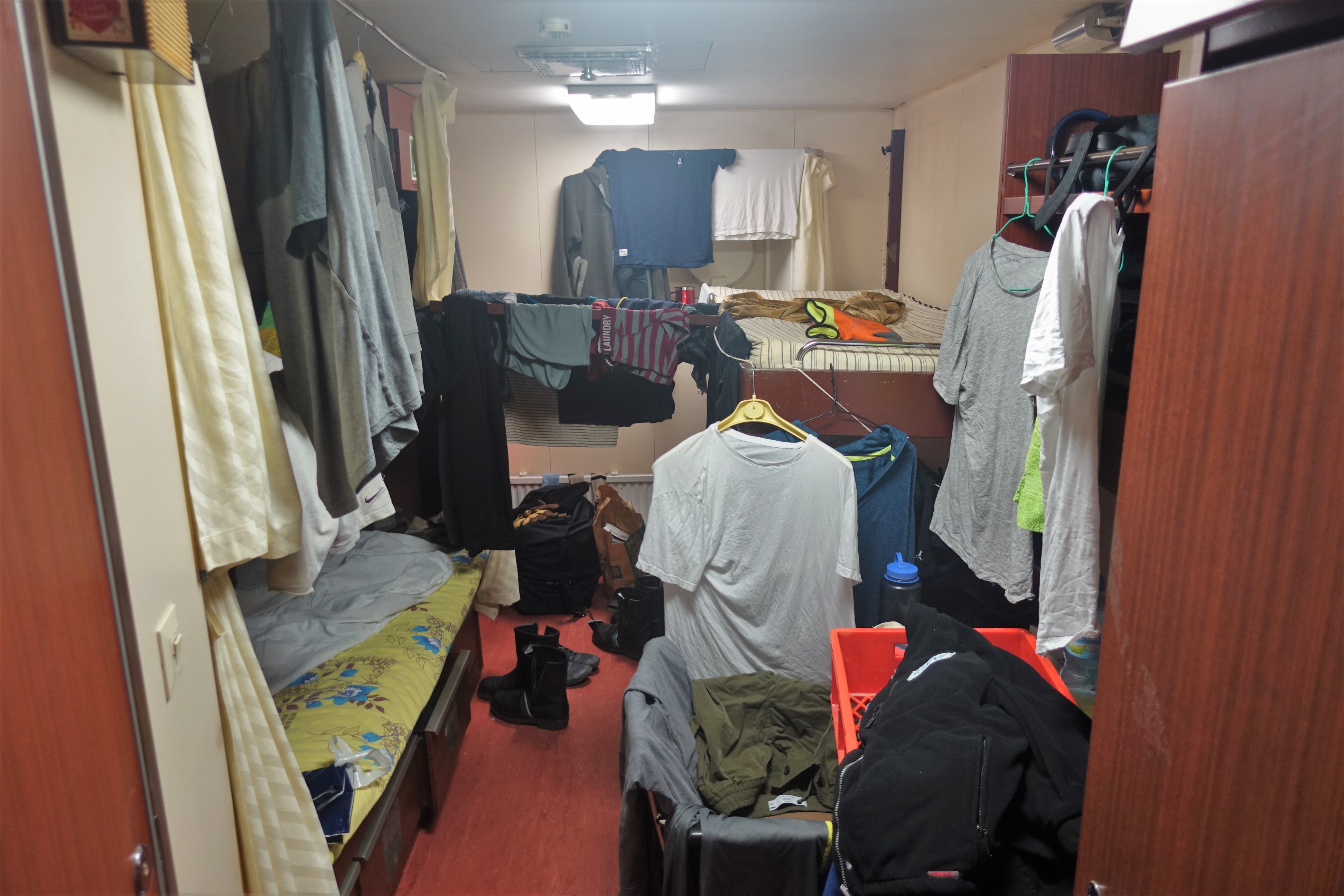 The Polarstern is home to about 100 people per leg of the MOSAiC expedition – from captain to engineers, scientists, bear guards, cooks and doctor. Everyone shares the small space on the ship (which is less than 400 feet long - not much longer than an American football field!). Almost everyone on board shares a cabin, sometimes up to four people. The cabins are small - bed, closet and small desk are efficiently arranged in the small space. With all the extreme winter gear that everyone needs, space it tight and there is no place for much personal stuff (or space). It is a bit similar to sharing a dorm room – only that there is not a coffee shop nearby to find some distance. But everyone who joins MOSAiC knows that they will spend time in close quarters and with that expectation already set it is fairly easy to get along. 
Photo (R): A cabin on the Fedorov; Photo credit: Mauro Hermann; Photo (L): MOSAiC participants attempt yoga on the Fedorov; Photo credit: Josefine Lenz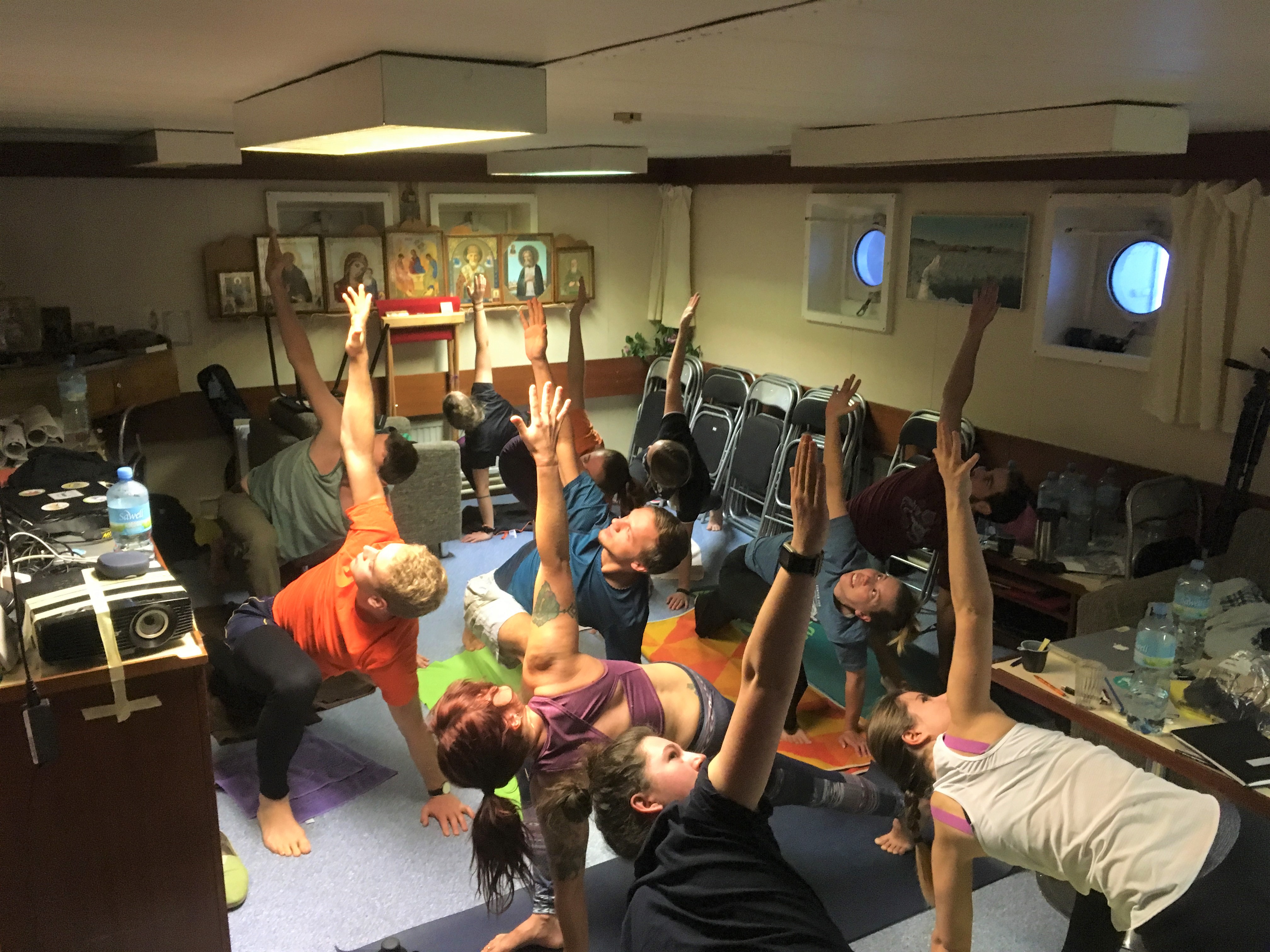 I shared a cabin on the Fedorov supply ice breaker with two others for six weeks and we got along really well. We respected when someone was reading or working and not wanting to chat and tried to give each other space, … and we all tried to be a bit extra tidy so that we would not lose track of our stuff. I am sure that everyone had times when they were happy for the routine of the day and to engross themselves in work or needed some fresh air on the deck to get away from others. It is surprising how many places there are to go on a ship – from the bridge to the rec room with treadmills, bikes and swimming pool to the sauna, the different mess halls, and the labs or different decks. Sometimes it was even hard to track people down, but then of course during the meal times everyone is together. Disagreements in this environment are harder to navigate – with limited options to gain a fresh perspective and distance it was sometimes challenging to take things not personally. Another challenge in the ship environment is communication – so many decisions have to be made every day and they usually impact many people. It is not easy to keep everyone on board informed about plan changes and much information gets passed along from person to person sometimes resulting in conflicting or confusing information. To keep everyone informed we held all-hands meetings every day that allowed for updates to be being shared with the entire team.
-Anne Gold, MOSAiC School 2019 Educator
---
 MOSAiC Weekly Tracking
Each week we will provide you with the latitude and longitude coordinates of the Polarstern so that your students can track its journey across the Arctic in your classroom.
Download the map to plot coordinates
Download a larger map of the Arctic for a bigger picture view of the expedition area
Location of the Polarstern
 Date
 Latitude
 Longitude
 September 16, 2019
 69.68 N
 18.99 E
 September 23, 2019
 72.31 N
 26.93 E
 September 30, 2019
 85.12 N
 138.05 E
 October 4, 2019**
 85.08 N
 134.43 E
 October 7, 2019
 85.10 N
 133.82 E
 October 14, 2019
 84.85 N
 135.03 E
 October 21, 2019
 84.97 N
 132.73 E
 October 28, 2019
 85.47 N
 127.07 E
 November 4, 2019
 85.88 N
 121.70 E
 November 11, 2019
 85.82 N
 116.00 E
 November 18, 2019
 86.05 N
 

122

.43 E
 November 25, 2019
 85.85 N
 121.35 E
 December 2, 2019
 85.97 N
 112.95 E
 December 9, 2019
 86.25 N
 121.40 E
 December 16, 2019
 86.62 N
 118.12 E
 December 23, 2019
 86.63 N
 113.20 E
 December 30, 2019
 86.58 N
 117.13 E
 January 6, 2020
 87.10 N
 115.10 E
 January 13, 2020
 87.35 N
 106.63 E
 **Day when MOSAiC reached the ice floe that the Polarstern will become frozen in and drift with for the next year.
Log MOSAiC Data 
What happens in the Arctic as the seasons change? Find out firsthand with real-time Arctic data, provided for you here each week. 
Download a MOSAiC Data Logbook to keep track of Arctic conditions over the course of the expedition
**The Data Logbook has been updated for 2020!
 Date
 Length of day (hrs)
 Air temperature (deg C) at location of Polarstern
 Arctic Sea Ice Extent (million km2)
 September 16, 2019
 13.25
 High: 10   Low: 4.4
 3.9
 September 23, 2019
 12.35
 High: 6     Low: -1
 4.1
 September 30, 2019
 9.1
 -4.7
 4.4
 October 4, 2019**
 

6.27

 -13.0
 4.5
 October 7, 2019
 3.05
 -8.2
 4.6
 October 14, 2019
 0
 -14.7
 4.8
 October 21, 2019
 0
 -12.8
 5.4
 October 28, 2019
 0
 -18.3
 6.8
 November 4, 2019
 0
 -18.9
 8.0
 November 11, 2019
 0
 -25.5
 8.7
 November 18, 2019
 0
 -10.7
 

9.3

 November 25, 2019
 0
 -18.4
 

10.0

 December 2, 2019
 0
 -26.6
 

10.4

 December 9, 2019
 0
 -23.1
 

11.2

 December 16, 2019
 0
 -19.2
 

11.8

 December 23, 2019
 0
 -26.9 
 

12.2

 December 30, 2019
 0
 -26.4 
 

12.6

 January 6, 2020
 0
 -28.0
 

13.0

 January 13, 2020
 0
 -30.7
 

13.1
*Note: We expect data to fall within the following ranges: Length of day, 0-24 hours; Temperature, -40 to 14 degrees C; Sea ice extent, 3-15 million km2
**Day when MOSAiC reached the ice floe that the Polarstern will become frozen in and drift with for the next year.
---
 MOSAiC + Reach the World
Exciting news! The MOSAiC education & outreach team is partnering with Reach the World to connect more classrooms to the MOSAiC expedition and expedition team members. Keep an eye out in future MOSAiC Mondays for updates and ways in which you can get your classroom involved. In the meantime, sign up for Reach the World's Explorer Program to connect your students to explorers around the globe.
Learn more about Reach the World
Sign up for Reach the World's Explorer Program
---
Is there something you'd like to see in MOSAiC Monday?  Let us know!
New to MOSAiC Monday? Check out past editions!
Browse more expedition-related educational resources, videos, and blogs
Email us! mosaic@colorado.edu
---
Next Week
Monthly expedition update
Check in with the Polarstern