MOSAiC Expedition: Week 10
Twenty early career scientists participated in the MOSAiC School 2019 during the first leg of the MOSAiC expedition, organized by the Alfred Wegener Institute (AWI) and the Association of Polar Early Career Scientists (APECS). The MOSAiC School participants assisted with instrument and experimental set-up and engaged with other expedition scientists to gain knowledge and experience around conducting Arctic climate research from an icebreaker. Enjoy some impressions of their 6-week long journey on the Russian support icebreaker Fedorov.  Video by Anika Happe
---
Expedition Updates: Adapting to Change
A Storm on the Ice
Over the November 16-17 weekend, a storm rolled into the location of the Polarstern, bringing with it winds of up to 20 m/s (almost 45 mph) and temperatures as low as -21 degrees C. The storm caused some new cracks to form in the ice floe, and a lead (large fracture in the ice exposing the water underneath) opened up between the ship and three of the science sites (MET City, ROV Oasis, and the Remote Sensing Site) distributed around the ship, resulting in these sites drifting to the port side of the ship. Some sites were relocated, and the science city layout will need to be remapped. An important component of doing research in such a remote, rugged, and dynamic environment is being able to respond to unexpected changes in the environment and to adapt on the fly. The Polarstern crew and science teams have been working tirelessly and determinedly to keep data collection going.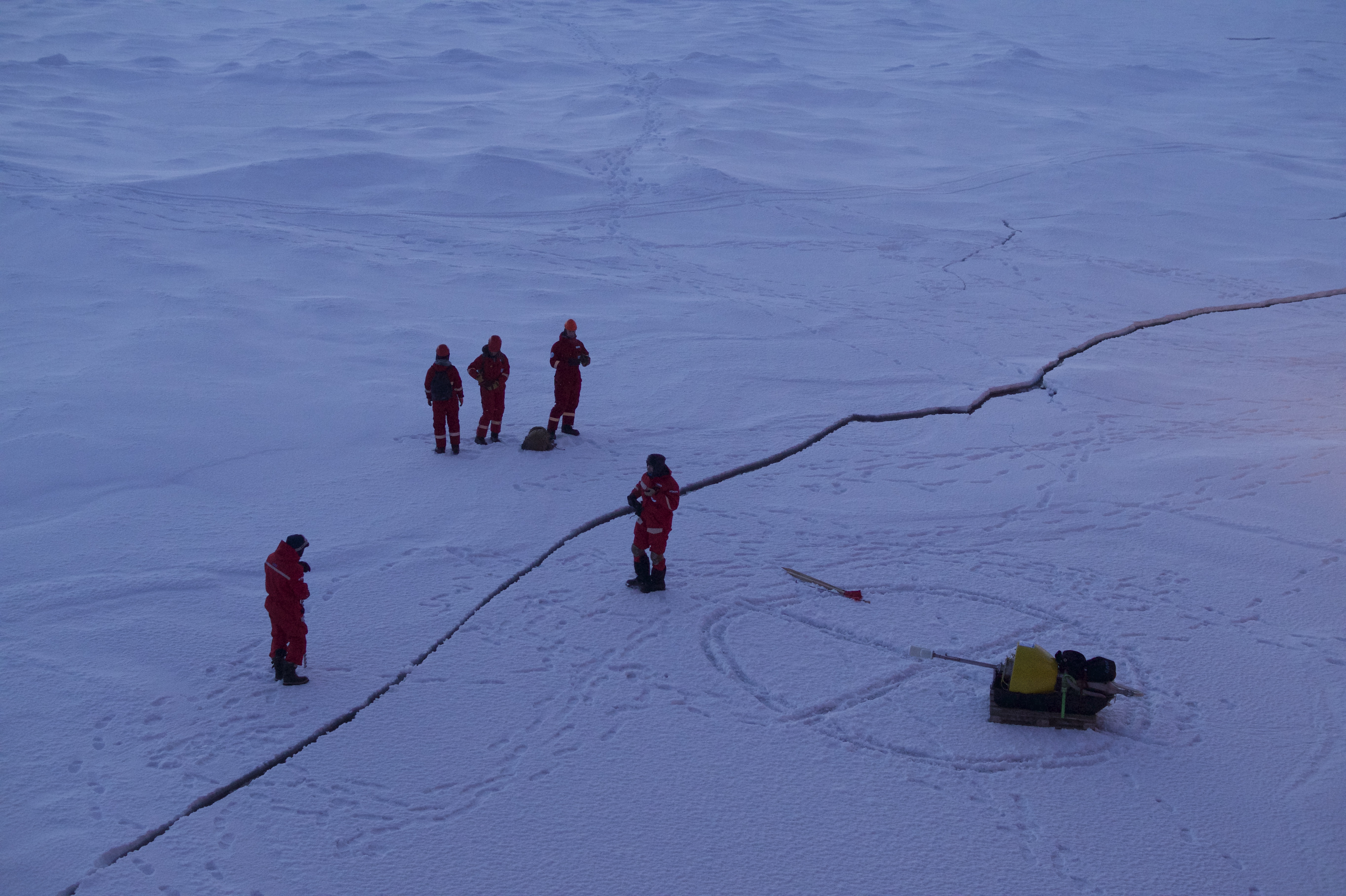 Photo: MOSAiC scientists examine a crack in the sea ice; Photo credit: Katharina Weiss-Tuider
Dynamic Drift 
The plan of the MOSAiC expedition from the very beginning was to follow the Transpolar Drift, a major current in the Arctic Ocean that flows from the north coast of Russia out to the North Atlantic Ocean. Scientists spent significant time studying models and observations of sea ice and drift to find a suitable ice floe to park the Polarstern next to. For the first few weeks of the expedition, the Polarstern was drifting south towards Siberia, then west towards the Russian exclusive economic zone (EEZ), within which data collection is prohibited. Now it seems they are headed in a more desirable northerly direction within the projected drift path. Onward, Polarstern!
Connect to the MOSAiC Web App to track the Polarstern in real time and compare its position to the projected drift path
---
#askmosaic: Downtime on an Arctic icebreaker
Submitted question: Do you ever have a chance to relax (downtime) and if so, what is there to do?
Since the MOSAiC expedition began, many on board the Polarstern and Russian support icebreaker Fedorov have reported back on all aspects of life aboard a ship in the Arctic.  Here is what a few of them had to say about downtime and non-work activities: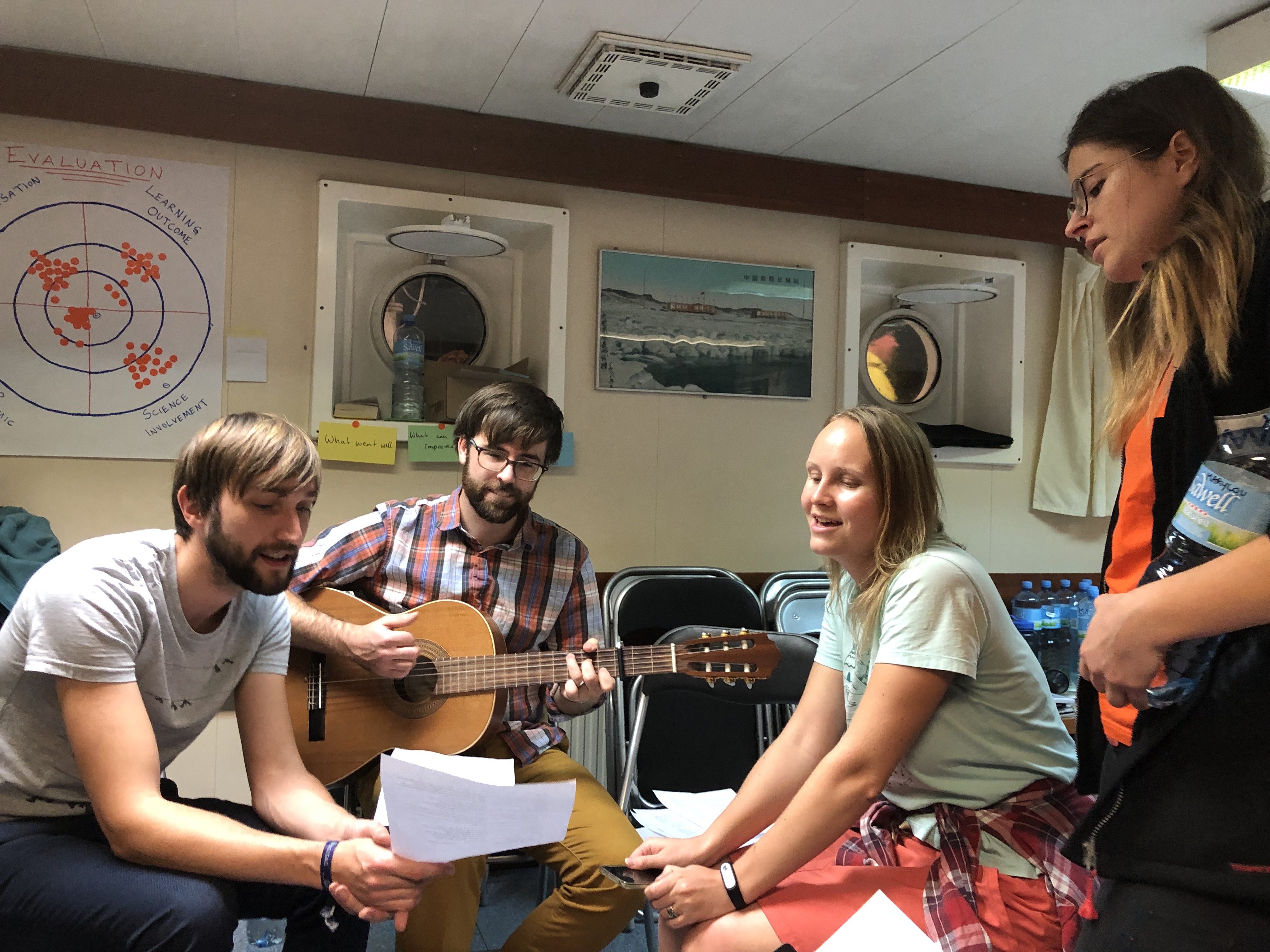 "... today was exceedingly pleasant outside because there was basically no wind. This made for easy work and an overall lighter mood. This mood was then accentuated by our mid-cruise BBQ. The Polarstern's "wet lab" was transformed with a set of tables, decorations, and flags from the MOSAiC nations. So many options for the grill…. Just grab and grill your own. I doubled up on the salmon. What a treat to have BBQ-ed salmon over hot coals. Yum. Music, laughter, dancing. It was a nice way to take a load off and recognize the huge amount of work we have done so far to get MOSAIC up and running." -Dr. Matt Shupe, research scientist at the University of Colorado Boulder and expedition co-coordinator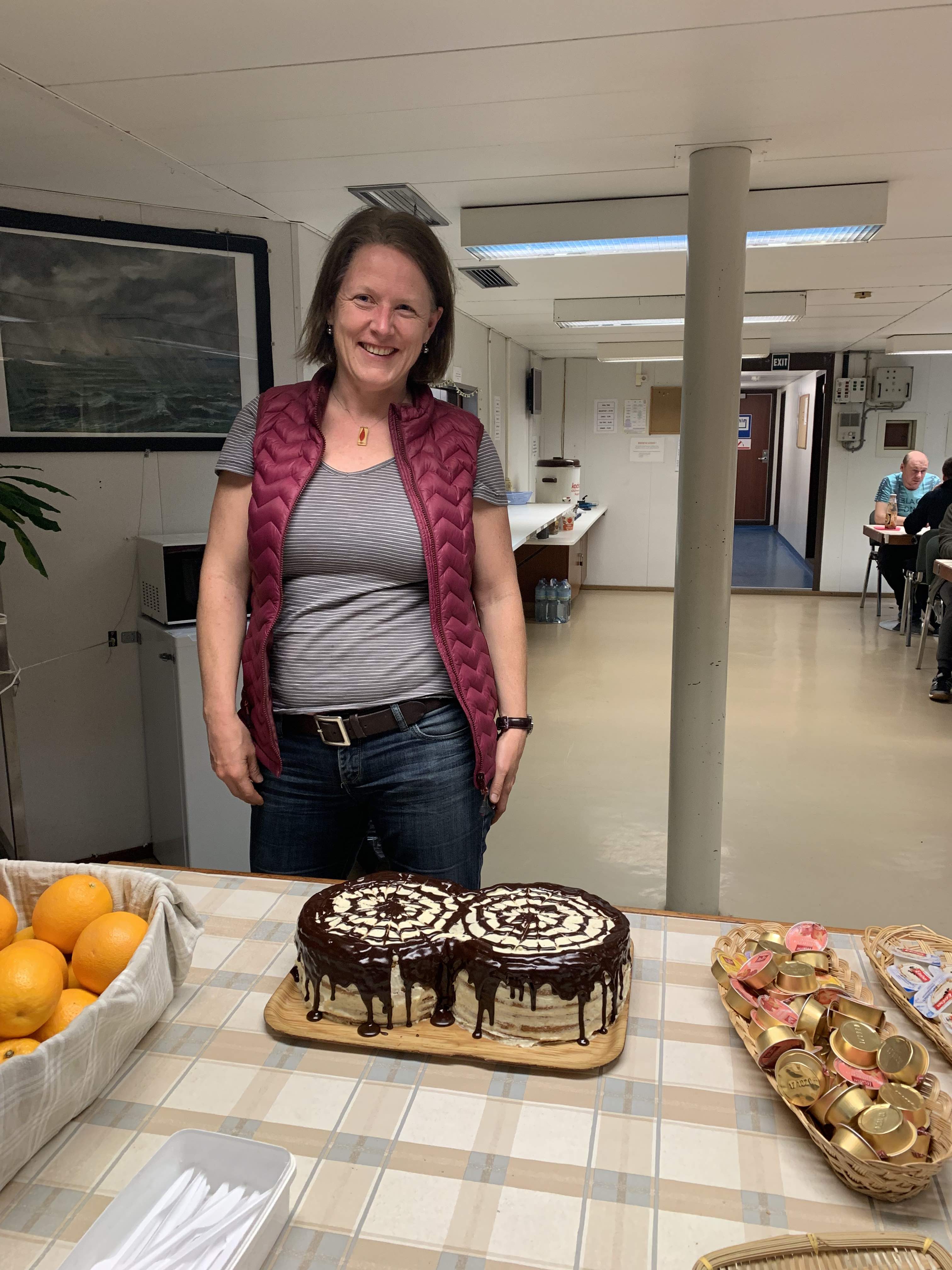 "...life at sea is not all work. We have had many exciting activities thus far, including the helicopter transfer of scientists from the Polarstern to [the Fedorov] for planning meetings and lectures for the students on board, several polar bear sightings, time in the sauna, birthday celebrations, addictive evening card games, and bioluminescence." - Dr. Jessie Creamean, research scientist at Colorado State University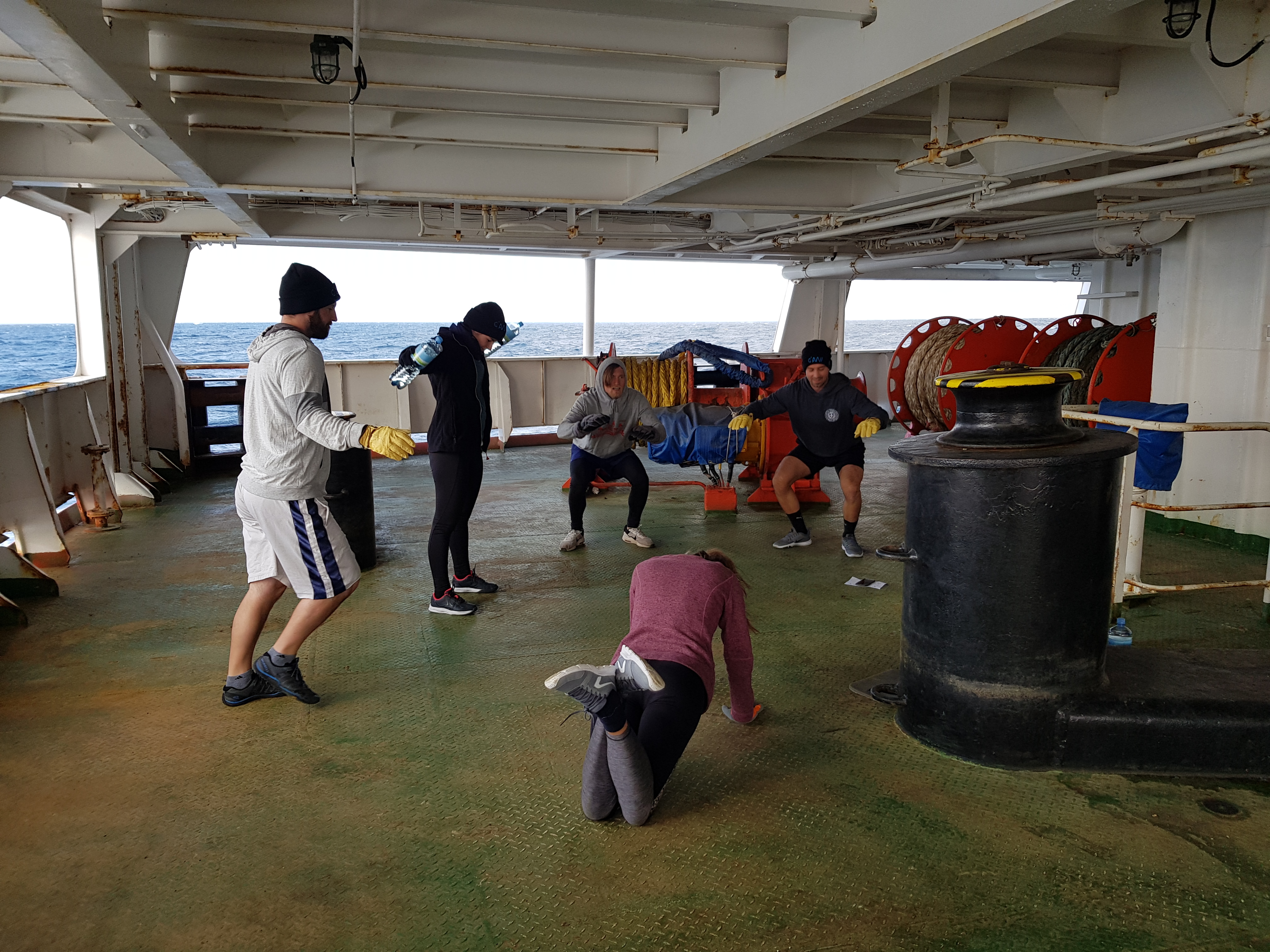 "To stay healthy and keep fit, we've instituted cross-fit work outs on deck, yoga classes in our classroom, and even some self-defense classes...Evenings have been our time to socialize, consisting of many game nights, [and] a couple movie nights​​​..." ​​​-2019 MOSAiC School participants
Read the MOSAiC School participants' blog
Photos: (top) MOSAiC School chorus, photo credit Katharina Weiss-Tuider; (middle) Anne Gold, director of MOSAiC outreach at CU Boulder, celebrates her birthday aboard the Fedorov, photo credit Anne Gold; (bottom) Crossfit on deck the Fedorov, photo credit Julika Zinke
---
 MOSAiC Weekly Tracking
Plot the Polarstern
Each week we will provide you with the latitude and longitude coordinates of the Polarstern so that your students can track its journey across the Arctic in your classroom.
Download the map to plot coordinates
Download a larger map of the Arctic for a bigger picture view of the expedition area
Location of the Polarstern
 Date
 Latitude
 Longitude
 September 16, 2019
 69.68 N
 18.99 E
 September 23, 2019
 72.31 N
 26.93 E
 September 30, 2019
 85.12 N
 138.05 E
 October 4, 2019**
 85.08 N
 134.43 E
 October 7, 2019
 85.10 N
 133.82 E
 October 14, 2019
 84.85 N
 135.03 E
 October 21, 2019
 84.97 N
 132.73 E
 October 28, 2019
 85.47 N
 127.07 E
 November 4, 2019
 85.88 N
 121.70 E
 November 11, 2019
 85.82 N
 116.00 E
 November 18, 2019
 86.05 N
 

122

.43 E
 November 25, 2019
 85.85 N
 121.35 E
 **Day when MOSAiC reached the ice floe that the Polarstern will become frozen in and drift with for the next year.
Log MOSAiC Data 
What happens in the Arctic as the seasons change? Find out firsthand with real-time Arctic data, provided for you here each week. 
Download a MOSAiC Data Logbook to keep track of Arctic conditions over the course of the expedition
Arctic Data* - NOTE: Length of day numbers have been updated based on more accurate models!
 Date
 Length of day (hrs)
 Air temperature (deg C) at location of Polarstern
 Arctic Sea Ice Extent (million km2)
 September 16, 2019
 13.25
 High: 10   Low: 4.4
 3.9
 September 23, 2019
 12.35
 High: 6     Low: -1
 4.1
 September 30, 2019
 9.1
 -4.7
 4.4
 October 4, 2019**
 

6.27

 -13.0
 4.5
 October 7, 2019
 3.05
 -8.2
 4.6
 October 14, 2019
 0
 -14.7
 4.8
 October 21, 2019
 0
 -12.8
 5.4
 October 28, 2019
 0
 -18.3
 6.8
 November 4, 2019
 0
 -18.9
 8.0
 November 11, 2019
 0
 -25.5
 8.7
 November 18, 2019
 0
 -10.7
 

9.3

 November 25, 2019
 0
 -18.4
 

10.0
*Note: We expect data to fall within the following ranges: Length of day, 0-24 hours; Temperature, -40 to 14 degrees C; Sea ice extent, 3-15 million km2
**Day when MOSAiC reached the ice floe that the Polarstern will become frozen in and drift with for the next year.
---
Analyzing the Arctic Challenge 
With 11 weeks of data in the MOSAiC log books, we can now start doing some simple expedition data analysis. Can you use the MOSAiC weekly tracking numbers in the data tables above to answer the following questions? Challenge Levels: I (Low) - V (High)
Challenge Questions
Level I: How far did the Polarstern drift between November 11th and November 18th? To determine this, use an online lat/long distance calculator, such as NOAA's Latitude/Longitude Distance Calculator tool. For an EXTRA challenge (Level V+), explore calculating this by hand using trigonometry. 
 
Level II: How much did the sea ice extent increase between September 16 and November 25? BONUS Challenge (Level IV): If the mean sea ice thickness during this time was 3.64 meters, what was in the increase in ice volume? What about if the mean ice thickness was 1.89 meters? Note: 3.64 m was the mean Arctic sea ice thickness in 1980 and 1.89 m was the mean Arctic sea ice thickness in 2008; Source: Kwok & Rothrock, 2009
 
Level III: What is the average temperature that participants on the Polarstern have experienced thus far?
 
Level IV: Do you notice any relationships or correlations between length of day, air temperature, and sea ice extent? If so, what do you notice?
 
Level V: What has been the average rate of change of sea ice growth in the Arctic over the past 11 weeks?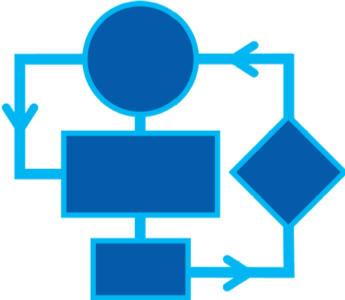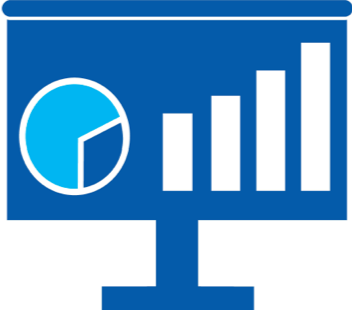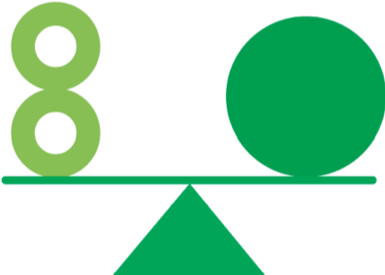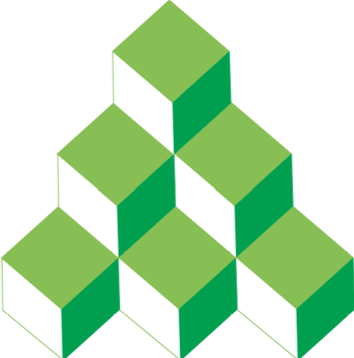 ---
MOSAiC Monday and the NGSS
What do those funny symbols below some engagements mean?
Good news for educators in the U.S. teaching with the Next Generation Science Standards (NGSS) or similar! We will now be tagging MOSAiC Monday engagements with the NGSS Disciplinary Core Idea subject(s), Science and Engineering Practice(s), and Crosscutting Concept(s) that they most closely connect to. Look for these symbols listed below each engagement: 
Disciplinary Core Idea Subjects
Science and Engineering Practices (adopted from the San Diego County Office of Education Science Resource Center)
Crosscutting Concepts (adopted from the San Diego County Office of Education Science Resource Center)
---
Is there something you'd like to see in MOSAiC Monday?  Let us know!
New to MOSAiC Monday? Check out past editions!
Browse more expedition-related educational resources, videos, and blogs
---
Next Week
Arctic geopolitics
Check in with the Polarstern