Image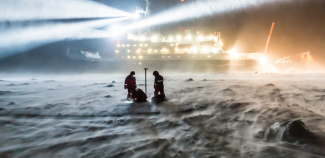 Two researchers work on the ice in front of the German research icebreaker Polarstern. Photo: AWI
---
The Arctic is warming faster than any other region on the planet, with enormous implications for the future of global climate. This year, CU Boulder researchers will play a leading role in a historic expedition to study one of the Earth's most remote environments firsthand.
The unprecedented Multidisciplinary Drifting Observatory for the Study of Arctic Climate (MOSAiC) will send the German icebreaker RV Polarstern from Tromsø, Norway into Arctic waters, where it will freeze itself into the winter pack ice to drift for an entire year, allowing more than 500 scientists from 17 countries to take detailed measurements of the ice, ocean and air. Heavy aircraft and ships will periodically ferry researchers and supplies to and from the mainland.
It's a once-in-a-lifetime opportunity that comes after more than a decade of planning from atmospheric scientist Matthew Shupe. When the boat departs in September, he will be aboard for the mission's first two-plus months.
"The foundation of MOSAiC is seeing the entire Arctic system in different ways, from many different angles," said Shupe, a researcher with CU Boulder's Cooperative Institute for Research in Environmental Sciences (CIRES) and NOAA.
The goal, Shupe said, is to untangle what are known as coupled processes, or the complex energy interactions between clouds, water, ice and air. While data of that kind is usually collected remotely, this mission will allow for advanced experimentation to be done in person.
"Scientists will be using sophisticated instruments like cloud radar that can't be operated autonomously," said Shupe, who himself will deploy a metal sled loaded with heat and wind speed sensors—all of which must be winterproofed and polar bear-proofed.
The expedition, which is being spearheaded by the Germany-based Alfred Wegener Institute for Polar Research, will have a total budget over $130 million. More than two dozen CU Boulder researchers will participate in MOSAiC, funded with more than $10 million from the National Science Foundation, the Department of Energy, the Alfred Wegener Institute and others.
"CIRES, CU and NOAA are at the forefront of polar research, so it was a natural fit for us to take part in this truly exciting international collaboration," Shupe said.
In addition to the primary scientific mission, which will help improve and refine climate models worldwide, CU educators will also use MOSAIC to develop new STEM learning tools by creating workshops, curricula, and online courses.
"Polar regions are fascinating because they're so far away and have inspired multiple generations to seek out knowledge," said Anne Gold, director of CIRES Education & Outreach. "We see tremendous opportunity to engage student interest around this kind of exploration and engineering."
Gold will be aboard the Polarstern's sister vessel, the RV Akademik Federov, during the first leg of the mission. The Federov will host 20 international graduate students (including CU Boulder engineer Sean Horvath) and K-12 students from around the world will be able to submit questions to scientists on board to behind-the-scenes glimpse at field research. Through a partnership with Fiske Planetarium, cinematographers will collect stunning high-definition footage to create a full-length planetarium show to be released internationally in 2020.
The hope, Gold says, is that MOSAiC's scientific and educational impact extends far beyond a single year in the ice.
"We will come home with a wealth of rich materials to fill out lesson plans and demonstrate the relevance of these Arctic processes," Gold said. "We're also building bridges to the next group of young polar scientists."