Image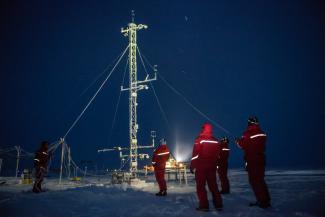 Meteorological Tower. Photo: Esther Horvath/AWI
---
All,

For the past week or more we have been drifting to the NW, more or less in the direction we need to go, at a speed of 0.1 to 0.3 kts. We are currently at 85° 35.3' N, 126° 9.03' E. Following the current drift course we would pass to the W of the N pole, but random shifts in direction may get us there yet.

The ice has been fairly stable for the past week and temperatures have been cold, -25°C yesterday. Winds have been moderate (5-12 m/s) and almost
exclusively from the E - SE, which is a relative wind direction of 90° to-port at the current ship heading. This is not the ideal situation for turbulence measurements at the bow, but we are still clear of local contamination at this wind direction so all the ship-based trace gas analyzers have been running. Air has been very cold and dry (frost point <-20°C) so I bypassed the air dryers on the CO2/CH4 or DMS instruments.

I had the crew drop the bow mast briefly today to clean off the Licor and inlets. Unheated surfaces were covered with 2-3" of frost and snow. The
Licor is back in operation for now, but frost and icing will continue to be a problem I think.

Both the 12m and 30m met towers are up and operational at Met City. Raising the 30m tower was complex and time consuming; it would have been
difficult enough on a sunny day on land, but in the dark, at -25°C on sea ice it was especially challenging. Ian Brooks is the expert for this piece of gear and I doubt we could have raised it successfully without him.

The CO2/CH4 flux system was installed at Met City two days ago and ran well for a day before the sampling pump failed. The backup pump also
failed, so I plan to take out a third pump tomorrow to get things back on track.

Sunday Steve and I collected the first NOAA GMD flask sample for their greenhouse gas monitoring network and plan to continue this weekly. Testing of the CO2/CH4 flux chamber system also continues and we will take it out to Met City by the end of this week for some real measurements. Today was also the first official day of ice core sampling for the ecology and biogeochemistry teams. They spent the better part of a day in very cold, windy conditions and came back with 50 cores representing a variety of ice conditions. Within the next couple weeks we hope to coordinate the CO2/CH4 flux chamber sampling with their weekly coring trips.

The tethered balloon installation is also nearly operational, so we will likely get the chance to try an ozone profile sometime in the next couple weeks.

It's been a very busy week as the focus shifts from setup to routine operations but we still have about 2 months of measurement activity in Leg 1 before we hand things over to the Leg 2 crew in mid-December.