Cross-cutting Science to Advance Modeling Capabilities
13-17 February 2023

University of Colorado, Boulder, Colorado, USA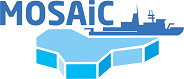 The Multidisciplinary drifting Observatory for the Study of Arctic Climate (MOSAiC) was an international, interdisciplinary Arctic scientific expedition that drifted across the central Arctic from autumn 2019 to autumn 2020. The 2nd International MOSAiC Science Conference will be held 13-17 February 2023 at the University of Colorado in Boulder, Colorado, USA. Conference objectives are to foster cross-cutting scientific analysis, address issues of spatiotemporal scaling of information, and promote advancement of modeling and predictive capabilities. The weeklong conference will offer a mix of plenary sessions with visionary keynote presentations, focused breakout sessions on a variety of thematic topics, poster sessions, flex-time for ad hoc meetings, a planetarium film viewing, and much more. The conference will build upon the 1st International MOSAiC Science Conference from April 2022. Since MOSAiC observational data are expected to be publicly available by the start of 2023, this conference is an opportunity to expand the MOSAiC science community through the use of these data. Conference participation is open to all, with the expectation that all contributions are focused on MOSAiC-related research.
Contact: Matthew Shupe – matthew.shupe@colorado.edu
Key Dates
October 12: Session announcement, abstract submission open
November 18: Abstract submissions due
December 1: Registration open
December 16: Full program published
January 11: Registration deadline
February 13 - 17: Conference
Venue
The conference will take place on the campus of the University of Colorado in Boulder, Colorado. Most conference activities will occur in the University Memorial Center, with other events at Fiske Planetarium, the Kittridge building, and the Stadium.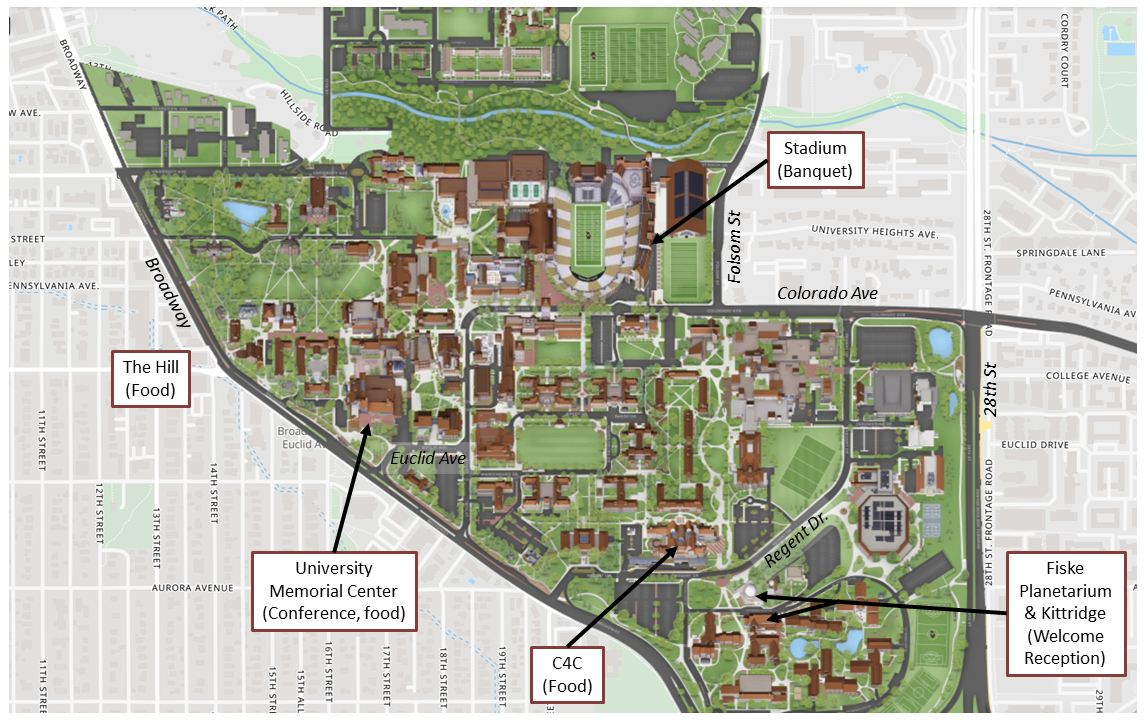 Participation in the conference is possible both "in-person" and "virtually", and requires registration. All registered participants will receive virtual connection information via email in the week prior to the conference.
IN-PERSON PARTICIPATION: Registration fee = $550. Deadline: January 11, 2023 (23:59 MTN)
Includes all Plenary, Parallel, and Poster sessions, and Flex time discussions. Also includes the Welcome Reception and Fiske Planetarium Show, Conference Banquet, and Coffee Breaks.
VIRTUAL PARTICIPATION: Registration fee = $350. Deadline: February 12, 2023 (23:59 MTN)
Includes virtual access to high-quality, real-time Plenary and Parallel sessions. Live questions, answers, and discussions will be available to support remote participation.
A general conference agenda is provided below. Following that agenda is a list of proposed scientific sessions with their descriptions. Abstracts can be submitted to any of these scientific sessions or to a general poster session (see "Abstract Submission" tab). Abstracts are due by 18 November. The final session schedule and session agendas will be finalized and posted by 16 December.
Reservations for Flex time meeting rooms can be made at any time by contacting matthew.shupe@colorado.edu and providing the date, time, and number of people anticipated to attend. The Flex time schedule will be publicized via a monitor at the registration desk during the conference.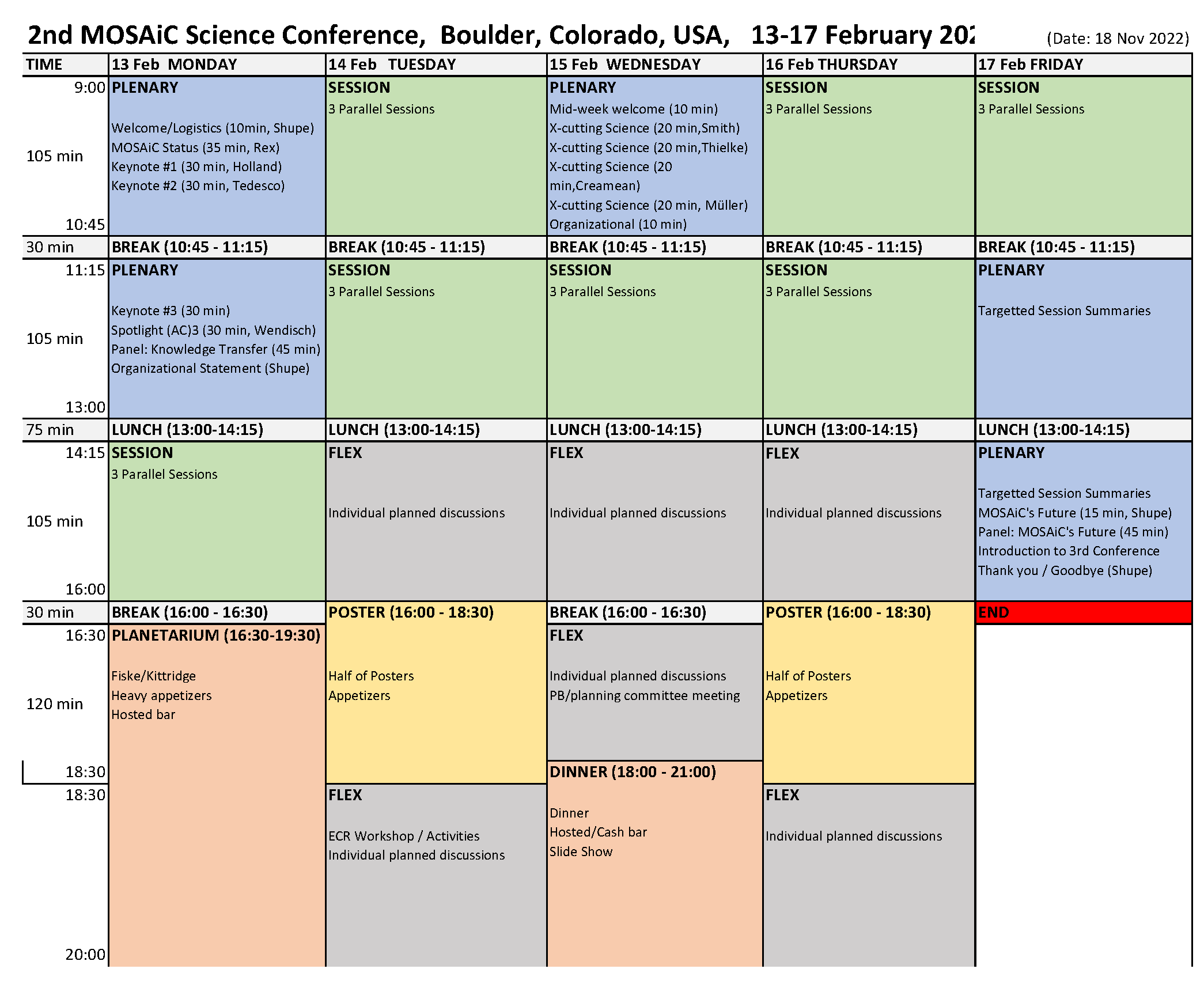 Scientific Sessions
1: MOSAiC Observations in the Context of Historical Data
This session aims on setting the base for the interpretation of all the different kinds of MOSAiC observations and is addressed to all MOSAiC Teams. The following questions are addressed: Are the MOSAiC observations representative for the changes observed in the past years/decade? What was completely new/exceptional? Did we sample the 'new' or the 'old' Arctic? How do MOSAiC observations in general compare to historical data and what does it imply for the interpretation of our observations? What limitations or opportunities arise from these findings?
2: Process Modeling at Multiple Scales
MOSAiC provides a unique opportunity to model key Arctic system processes using a variety of modeling tools, including: Regional coupled and uncoupled models, nested meso-scale models, large-eddy simulations, single-column models, Lagrangian approaches, and more. Importantly, by leveraging these different types of models towards common foci, enhanced progress can be made in the representation of uncertain fast processes related to mixed-phase clouds, surface heat fluxes, the influence of leads, atmospheric boundary layer structure, atmosphere-ice-ocean interactions, and ocean mixing, as well as large-scale processes related to Arctic Amplification and climate system change. This session welcomes presentations using any of these high- to intermediate-resolution model approaches. Building on the session's presentations, a discussion will aim to identify shared scientific goals and explore the collective development of targeted case studies for model analysis and assessment.
3: Numerical Model Improvements in the Next Decade
This session encourages submissions that describe the plans of leading weather forecast and climate modeling centers for improved numerical forecasts and climate predictions with state-of-the-art coupled models in the Arctic and beyond in the coming decade. Topics of interest include model asessments and forecast skills for targeted observation periods, the parameterization of coupled processes at the interface between ocean, sea ice, and atmosphere, including improved multi-category sea ice and snow models, and observational data assimilation of the coupled Arctic system. We welcome presentations on the current and next generation of weather and climate prediction systems in Arctic, with a particular focus on control of complexity, enhanced resolution, and resolved meso-scale physics. This overview will build the foundation to develop new synergies between MOSAiC observations and the modeling community for the exploitation of the unique MOSAiC datasets in future model development plans.
4: Bridging Temporal and Spatial Scales in Observations and Models
This session will present and discuss ideas, approaches, concepts and first results of studies that bridge scales. Most observations and models have a very specific spatial and temporal coverage and discretization. Observations are sparse and only exist under specific conditions. Depending on the scientific objectives, upscaling or downscaling is needed to merge data sets from different groups and methodologies. Also issues of different reference / coordinate systems need to be overcome and will be discussed here.
5: Aggregated Datasets and Methods for Model Evaluation
The evaluation and improvement of climate models' skills in representing the Arctic system is one prominent goal of MOSAiC. A wealth of in-situ measurements was collected during the MOSAiC drift, and comparing these observations to model output is essential for assessing the quality of simulations. This session aims to provide a forum to discuss products and methods for model evaluation using MOSAiC observations. We invite contributions focusing on but not limited to the advertisement of datasets, and discussion around the preparation of data products, including Merged Observatory Data Files (MODFs) / Merged Model Data Files (MMDFs). Contributions can additionally include multi- and cross-model evaluations focused on the MOSAiC drift. Finally, studies investigating approaches aiming to optimize the use of short-term observational campaigns like MOSAiC, such as machine learning applications or novel methodologies for model evaluation, are particularly welcome.
6: From the Ice Floe to Space – Remote Sensing and MOSAiC
This session aims to discuss remote sensing observations collected for MOSAiC and their applications across all scales. Besides local and regional data analysis from the remote sensing site and airborne measurements, also studies using the MOSAiC observations to evaluate and improve large scale and long-term remote sensing datasets are invited (e.g., climate data records, ice types/topography/thickness, leads and ice concentration, snow and melt pond properties).
7: Arctic Atmosphere-Sea Ice-Ocean Coupling and Feedbacks, including Biophysical
One of the main goals of the MOSAiC project has been to collect observations across the key components of the Arctic System to advance understanding, modeling, and prediction of their coupling and feedbacks under a warming climate and declining sea ice cover. Various challenges exist for using these measurements, including devising methods for deducing interdisciplinary linkages or coupling between the disciplinary observations, and upscaling of collected data on individual processes and their impacts to climate-model 'grid-cells' and the basin-scale. Hence, extracting evidence of coupling and feedback processes from the observations is critical, as is the endeavor to realistically represent these processes, interactions, and feedbacks in Earth system models across a range of spatiotemporal scales. In this session, contributions are invited that focus on various disciplinary processes, and their coupling across the surface boundary layer interfaces, including across the bio-physical domain. Contributions are welcome from MOSAiC observational studies and from model analyses on various time and spatial scales. Studies on feedback processes involving the atmosphere, ice, ocean and bio-geochemical domains are of particular interest. Finally, the organizers invite presentations that will encourage active discussion of interdisciplinary processes and their potential role in coupling and feedbacks.
8: What Determines Heat Flow through Snow: Measurements and Models
Snow on sea ice is thermally insulating, inhibiting sea ice growth in winter and altering the near surface conductive flux. Observations indicate that the thermal conductivity of snow is smaller than that of sea ice by roughly an order of magnitude. However, snow is known to be highly heterogeneous, and this heterogeneity is rarely included in models. Reliable estimates of snow properties are important for calculating conductive fluxes and changes in temperature as well as representing snow and sea ice growth in models. We invite participants to share and discuss observations characterizing snow on sea ice, including thermal properties, density, and fluxes in the snow. Modeling studies related to snow on sea ice are also highly encouraged. The goal of this session is to foster discussion of how to combine different observational methods to better understand the variability of snow properties and their representation in models.
9: Evolution and Interaction of Sea Ice and Snow Properties Across Time and Space
The MOSAiC ice, snow, and ecosystem observations highlight how Arctic sea ice and its processes are incredibly complex vertically, spatially, and temporally. Yet accurate model simulations of many associated processes are lacking. Our challenge is to harness these new observations to better understand the system's complexity, assess model quality, develop sub-grid-scale parameterizations, and thereby improve model predictive skill related to the representation of ice, snow, their ecosystems, and related processes. This session invites submissions that shed new light on how interactions within and across the sea ice impact local and regional processes that span a variety of space and time scales. We specifically invite observational and/or modeling contributions on snow and ice physics, chemistry, biogeochemistry, ecosystems, cross-cutting interactions, and more.
10: Meltwater Layers on the Ice and Upper Ocean
From melt onset until fall freeze-up, snow and sea ice meltwater provide a source of relatively fresh water to the sea ice and upper ocean. Observations during MOSAiC showed that much of this meltwater remained unmixed in thin layers (order 1 m) on top of, underneath, and surrounding ice floes in July and August, in agreement with sparse prior observations of these features throughout the Arctic Ocean. This strong stratification at the interface of the atmosphere and the ocean has significant implications for all components of the system yet is often not represented in modeling efforts. Implications range from impacts on the subsequent evolution of the physical system, to the fluxes across this interface and ecological communities within it. This session will highlight interdisciplinary work that suggests the far-reaching role that meltwater plays in the Central Arctic system.
11: Vertical and Lateral Transport in the Ocean
Physical transport processes in the ocean, such as vertical turbulent mixing and lateral advection by eddies or mean currents, distribute tracers and set boundary conditions for other subsystems like sea ice, biogeochemistry and ecology. Despite the large amount of available oceanic data, the interpretation of these data sets to quantify transport pathways is not always straightforward, and is further complicated by the fact that MOSAiC was an ice drift experiment, where spatial and temporal trends in the ocean cannot be easily separated. In this session, we would like to discuss oceanic transport and dynamics, and how they affect tracer distribution of heat, nutrients, particles, oxygen, plankton, detritus, and more. Individual observations of any of these tracers with their different sources and sinks will help us to better quantify physical transport pathways, and separate regional and temporal trends along the drift path, which in turn benefits the interpretation of the spatio-temporal distribution of other tracers. We invite contributions from any discipline that are in some way related to oceanic transport acting on any temporal or spatial scale.
12: Storms and Synoptic Events
MOSAiC was affected by a number of synoptic storms and cyclones passing the camp, driving distinct and high-amplitude short-term variations in the atmosphere, snow, sea ice, and ocean. The respective impacts and mechanisms of those events cover a broad range of spatial scales- ranging from local modulations of the cloud-, precipitation, boundary layer-, and thermodynamic structure up to spatially widespread impacts on/of sea ice drift & deformation, ocean circulation & stratification, or stratospheric dynamics. The combined effect of those storm-driven modulations of the local coupled climate system are also of key importance for the surface energy budget, and are hence important for enhanced understanding of amplified Arctic climate change. This session welcomes contributions in the overarching theme of storm-related impacts, feedbacks, variability and processes from both observational and modeling perspectives. (This session will be optimally combined with the "Storms and synoptic events" session as needed)
13: Air Mass Intrusions into the Arctic during MOSAiC
Arctic amplification has been linked to anomalous poleward atmospheric transport in the form of warm and moist air-mass intrusions. Intrusions arriving from mid-latitudes can introduce moisture and perturb Arctic temperatures, cloud formation, surface albedo and sea ice properties. The frequency and intensity of warm and moist air-mass intrusions control the inter-annual variability in Arctic mean surface air temperature, humidity and downward longwave radiation. Moreover, changes in sea ice concentration have been linked to intense warming events introduced into the Arctic during springtime, highlighting the importance of such events. (This session will be optimally combined with the "Storms and synoptic events" session as needed)
14: Atmospheric Boundary Layer: Structure and Processes
The Arctic atmospheric boundary layer (ABL) is the interface between the free troposphere and the sea-ice. As such, its structures and processes are key for the transport and mixing of heat, momentum, moisture, aerosols, and gases in both directions between the sea ice and the free troposphere, and characterizes the unique Arctic atmospheric near-surface environment. This session on the atmospheric boundary layer invites presentations describing the ABL structure observed during MOSAiC, processes that modulate this structure (e.g., cloud interactions, synoptic conditions), key mixing processes, and ABL interactions with the free troposphere and different surface types. Presentations showing the effects of ABL processes on other observed features, such as the evolution of chemical or gas constituents, surface energy budget, etc., are welcome.
15: Trajectories through Time and Space
Trajectory analysis represents an important reference frame for many MOSAiC studies. Tracing the transport processes in space and time can support the interpretation of observations by linking the Lagrangian evolution of the system with the Eulerian perspective. Atmospheric trajectories follow the evolution of the physical/chemical state of an air mass and relate source regions to the receptor points. Ocean trajectories link basins and reveal vertical exchange processes of heat and nutrients. In addition, the MOSAiC expedition itself followed a sea ice trajectory across the transpolar drift. This session focuses on trajectories and trajectory modeling. Submissions on trajectory model evaluations, intercomparisons, and interpretation are all welcome, as are studies that incorporate trajectory information towards understanding transitions or evolution in key aspects of the environmental system of the Central Arctic.
16: Dynamical and Chemical Controls on Arctic Atmospheric Composition and Aerosols
The MOSAiC campaign has yielded a full seasonal cycle of observations on atmospheric composition in the Arctic including boundary layer (BL) and free tropospheric aerosol, reactive compound concentrations and climate-active trace gas surface fluxes. Given the crucial role of BL dynamics as well as long-range transport of aerosols and trace gases, analysis of these observations requires careful consideration of local- versus large-scale contributions to observed concentrations and fluxes. This can be inferred from observations on BL dynamics, trajectory analysis and model experiments, e.g., using Large Eddy Simulation, 1-D or 3-D models. We invite presentations that aim at interpretation of MOSAiC's atmospheric composition observations, possibly supported by modelling experiments and trajectory analysis to assess the role of BL dynamics and long-range transport in explaining these observations.
17: Local Production – Aerosols, Gases, and Interfacial Processes: Connecting In-situ Observations with Satellite Detection of Bloom-Cloud Interactions within the Arctic System
The sea ice-covered oceans are complex regions for understanding ocean-atmosphere interactions and associated aerosol production. In-ice, under-ice, and ice-adjacent processes release gases such as methane, oxygen, N2O, and aerosol precursors like primary particulate matter and VOCs to the atmosphere, but the strength and timing of these releases can be hard to observe and quantify. At the same time, the mechanisms for air-sea flux are difficult to establish because open water is limited and often affected by frozen or meltwater layers and other heterogeneities at the interface. Emission processes during e.g. blooms could provide critical aerosol and gas components to the atmosphere that facilitate cloud formation, lifetime, and radiative properties, as well as determine the role of the Arctic Ocean in greenhouse gas forcing. The MOSAiC Arctic drift expedition was a period of unprecedented integration of ocean, ice, and atmospheric column measurements to investigate such processes. This session seeks to build on the insights those observations have generated and to compare those insights with the range of time and spatial scales that remote sensing from platforms like ICESat-2, CloudSat, and CALIPSO can provide. We hope to attract a broad range of cross-cutting contributions from within the MOSAiC Community as well as from those experts across the modeling and remote sensing communities.
18: Carbon Currency and Transformations
We invite submissions which highlight key processes controlling, controls on, and pools of carbon quantified during MOSAiC and beyond that will enable us to map fluxes of carbon through the Arctic ecosystem. We encourage cross-disciplinary presentations that will foster discussion on improving our understanding of carbon flow and fluxes across Arctic climate compartments. We also invite submissions that focus on transformations of carbon via chemical and biological activities from microbes to macrofauna, and the connectivity between these mediated processes as they relate to observed and simulated quantifications of export production. If carbon is not your primary currency, we also welcome submissions on other elements and compounds to complement and foster discussions on our understanding of material transformations and fluxes.
19: Functions and Communities: The Role of Biodiversity for Ecosystem Functioning Under the MOSAiC Floe, from Microbes to Fish
Following the fate of carbon and nitrogen as energy sources of the fantastic diversity of life under the Arctic sea ice, is a major objective of the MOSAiC Science Plan. MOSAiC offered the opportunity to answer many open questions about the high-Arctic ecosystem, including patterns of biodiversity, abundance of organisms from microbes to large fish and squid, and the amount of carbon and nitrogen channeled through the food web. This session focuses on the role that biodiversity plays for functions, services and resilience to environmental change of the high-Arctic ecosystem during the MOSAiC drift. We encourage contributions sharing results on genomic, organismic and functional biodiversity and related physiology, community structure, trophic fluxes, primary and secondary productivity. We aim to bring together knowledge from all disciplines of MOSAiC that can increase our knowledge on the forces governing biodiversity at all levels from genes to whole metazoans, and the role of biodiversity for elemental cycling and other ecosystem functions.
20: Optical Properties and Processes in the Arctic Air-Ice-Ocean-Eco System
The optical properties of the atmosphere, snow, sea ice, ocean, and associated biota strongly modulate the partitioning of shortwave solar radiation in the Arctic system. The albedo and transmittance of the MOSAiC ice cover were measured to help constrain radiative energy budgets between air, ice, and ocean. These were characterized from sun up through freeze-up. Additionally, novel techniques for measuring light attenuation within the ice and ocean were used to collect data on the physics of radiative transport. When integrated, these measurements form a basis for quantifying the surface radiative heat budget, improving interpretation of remotely sensed data, enhancing the representation of spatial and temporal complexity of radiation in regional and climate models, and improving our understanding of the fundamental physics of light transport by an ice cover known to vary both seasonally and interannually. Contributions related to the measurement and modeling of the optical properties of the various elements of the Arctic system are solicited. We are particularly interested in contributions that (1) help knit together individual components of the surface radiative heat budget during polar day, (2) scale-up optical point measurements for use with larger scale observations, and (3) advance the state of optical property modeling in the Arctic.
21: Shedding Light on the Unknowns of the Polar Night
The central Arctic is nearly inaccessible during the polar night and therefore very few winter datasets from the high Arctic exist, limiting our understanding of the coupled ocean-ice-atmosphere system. Thanks to MOSAiC, enormous amounts of winter data from various disciplines were collected, many of which are now available. These data will help us to develop a detailed understanding of the complete climate system and enable cross- disciplinary upscaling of physical, chemical and biological processes from micro- to mesoscales and their interactions during this cold and dark period. The goal of this session is to bring together all researchers interested in winter processes. Interdisciplinary approaches are particularly welcome. We invite abstracts from all MOSAiC teams focusing on processes including, but not limited to feedbacks in the atmosphere-ice-ocean system during atmospheric events, research on the atmospheric and ocean boundary layers, the effects of ice growth on fluxes of gasses, heat, and salt, as well as winter biochemical pumps. We likewise welcome new findings regarding the spatial variability of winter processes, overwintering strategies of organisms, processes triggered by transition from polar night to polar day, and any other important results discovered with these unique wintertime data.
22: Night to Day: Processes Activated During the Late Spring – Early Summer Transition
Late spring and early summer in the Arctic marks a transition in the seasonal climate between polar night and polar day. Polar night is characterized by a cold, dry atmosphere, a snow-covered icescape, and a cooling ocean. Sea-ice growth, snow accumulation and wind-driven redistribution, strong surface cooling, and reduced biological productivity are all at play. In stark contrast, polar day is characterized by the return of insolation, warmer, moister atmospheric conditions, strong surface heating, snow and sea-ice melt, rainfall, and increased biological productivity. The interactions between the atmosphere, ice, and ocean within this transition influence the surface energy budget, the timing of melt onset, the responses of the Arctic physical climate and ecosystem to sunrise, and the properties and radiative effects of clouds with implications for the mass balance of sea ice in the summer and fall. Given the importance of accurately representing this transition in models, the session welcomes presentations discussing the unique atmospheric, oceanic, surface, and biological processes taking place during the late spring and early summer including but not limited to changes in primary productivity, energy balances, clouds, the sea ice growth and properties, food web interactions, biogeochemical cycling etc. The goal of this session is to advance our understanding of the interactions between these processes taking place during this pivotal time of year.
23: Explaining Ecosystem Turning Points through Interdisciplinary Processes
The Arctic ecosystem experiences a variety of changes in terms of activity, diversity and habitable niches, many of which were observed at MOSAiC. These changes can be associated with turning points in ecosystem activity and function, and are often initiated by abrupt changes of oceanographic or atmospheric features and ice dynamics, that include (but are not limited to): diurnal light variability; lead formation and other ice deformation events; episodic melt and freeze; storm activity; and oceanographic boundaries. In this session, we invite interdisciplinary studies that identify such outliers in ecosystem dynamics, and specifically explore cross-interface interactions - such as from the various extended ice hours/event-driven sampling during the MOSAiC expedition. For example, the high biomass layer observed beneath the ice-water interface which prompted 24-hour on ice sampling in early July - although all seasons and environmental niches are welcome. We especially welcome analyses that take an integrative approach to studying the causes and effects of such ecological turning points in more than one component of the Arctic climate system. This session aims to boost synergies across projects, institutions, and disciplines, which will help the MOSAiC and broader science community accelerate understanding of the trends and outliers within the MOSAiC time series.
24: General Session (Poster only)
This session is for general contributions of any MOSAiC-relevant science and/or new topics that do not fit within another session. Submissions to this session will be presented in one of the poster sessions along with many other poster presenters on a variety of themes.
25: Outreach and Education around MOSAiC (Poster only)
This poster-only session will highlight the many outreach and educational activities across MOSAiC. Contributions are encouraged that highlight the development of educational content and curricula, outreach activities within local communities, teacher engagement and workshops, web-based resources, communication and media products, and other unique means for bringing MOSAiC to a broad public audience. (Contributions to this session do not count against the abstract submission limit)
Abstract submissions are now closed. If you missed the deadline and are still interested in participating, this MIGHT be possible. Please contact matthew.shupe@colorado.edu.
Early Career Researcher Session and Activity
There will be a dedicated session and activities for Early Career Researchers on Tuesday, 14 February at 18:30. Stay tuned for more details on this event.
Early Career Travel Support Program
Early career researchers (ECR) are important contributors to, and participants in, MOSAiC science and their presence at the MOSAiC Conference is essential. To support and enable active ECR participation in the conference there is an ECR travel support program. The program is open to researchers who are students or within 7 years of receiving their PhD. Note: this 7 year definition for ECR is an extension beyond the typical 5 year definition to help accommodate career challenges related to COVID and other issues in the past few years. Awards for this competitive program will range from a fixed travel stipend to full travel support. Award recipients and amounts will be decided by a small committee, based on the applicant's contributions to MOSAiC science, contributions to the MOSAiC conference (i.e., session convening, flex time sessions, etc), and need for support (or lack of other support). The application due date for this program has passed, such that no further applications will be accepted.
Invitation Letters
If you need an invitation letter to obtain a visa to participate in this conference, please send an email to matthew.shupe@noaa.gov with your name, institution, and address.
Hotels
There are multiple hotel options in Boulder and near the University of Colorado campus. We have a room block reserved at a lower rate at the Embassy Suites, which is the partner hotel for the conference. Rooms are limited so book early!
2601 Canyon Blvd, Boulder, CO 80302, 720-510-3693
Special group rate: $129+tax
Book via this reservation link. Group code: CU MOSAIC
Room block cutoff date: 13 January 2023
Dates: 12-17 February 2023, can book up to 2 days before or after at the same rate
Free Wi-Fi, breakfast, and evening reception
$15 / night parking
Cancellation: 48 hours prior to arrival
Other hotel options are available, but without special arrangements. Some options include:
Getting Around Boulder
Ride services, including Uber and Lyft, operate in the Boulder-Denver area. Standard taxis are also available, but are typically more expensive.
The cheapest transportation to Boulder from the Denver International Airport is the bus. Boulder-Denver is serviced by the Regional Transportation District (RTD) bus and light rail network. Specifically, the AB bus connects Boulder with the Denver International Airport. The RTD also operates numerous bus lines within the city of Boulder, many serving the University of Colorado area. Information is available at www.rtd-denver.com
Boulder is walkable! The University, many hotels, and many restaurants are all within a 30-minute walking distance.
Near-Conference Meal Options
University Memorial Center, directly downstairs from the Conference. A variety of fast food options.
Center for Community (C4C) dining hall on Regent Drive (8-min walk). ~US$13.50 (credit card only) for entry with many options.
"The Hill" (5-min walk). Many restaurants in this busy student area near 13th and College Ave.
Local Attractions
Downtown Boulder features the Pearl Street mall area, a pedestrian-only zone with many restaurants, shops, art galleries, and more.
Hiking. Sitting at the foothills of the Rocky Mountains, Boulder features many local hikes, including Chautauqua Park, Mount Sanitas, Flagstaff Mountain, Eldorado Canyon State Park, and many more. A 15-min drive up Boulder Canyon features Boulder Falls. Finally, there is a nice paved path along Boulder Creek, running through Boulder.
Ski! Colorado offers many world-class skiing opportunities. Most of these are a 2, or more, hour drive from Boulder up into the mountains. Various shuttle services, ski rental opportunities, and other ski deals exist.
Local Maps